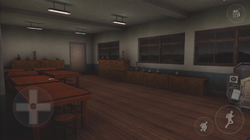 Art Room is a Room located in Main Building, Section 2 of Yeondu High School.
This room is a space for Art class.
You need a Art Room Key to enter this room.
This room is connected to the Art Supplies Room.

Further Notes
Edit
It seems to be mainly teaches formative art lessons, because there is an electric oven in this place, unlike Art Studio of New Building. (Presumed)
In this room, a major encounters with Baby ghost occur.
There is a document on the blackboard of this room related to defeating Baby ghost.
Ad blocker interference detected!
Wikia is a free-to-use site that makes money from advertising. We have a modified experience for viewers using ad blockers

Wikia is not accessible if you've made further modifications. Remove the custom ad blocker rule(s) and the page will load as expected.