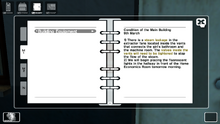 Building Maintenance Status is a note White Day: A Labyrinth Named School and Remake.
It details the information the about Air duct.
Location
It is found in front of the hallway leading to the Home Economics Classroom and the Workshop on the 1st floor of the Main Building, Section 1.



Transcript
2001
Building Maintenance Status
Condition of the Main Building
9th March
1) There is a steam leakage in the extractor fans located inside the vents that connects the girl's bathroom and the machine room. The valves inside the vents will need to be tightened to stop the flow of the steam.
2) We will be placing the florescent lights in the hallway in front of the Home Economics room tomorrow morning.
(본관) 건물 설비 현황
(3)월 (9)일
-가정실습실 앞의 복도 형광등 공사 내일까지 완료.
-본관 1층 여자 화장실에서 기계실 까지 연결된 환풍구 에서 증기 누출
2015
Building Maintenance Status
As of March 9

-The installation of a light fixture next to the Workshop is scheduled to be completed by tomorrow. -Please make sure to tidy up all tools and ladders after their use. -The Wiring of the Workshop is currently under repair.
※ To workers Please do not close the steam valve of the ventilation window.
건물 설비 상황

3월 9일 현재.
- 기계 실습실 옆 공터의 형광등 공사 내일까지 완료
- 공사 후 사다리 및 공구 정리 요망
- 기계 실습실의 배선 고장 수리 중

※ 작업자들에게 환풍구의 증기 밸브 잠그지 말 것 전달.
Further Note
This note informs the player to use the ventilation shaft in order to get into the Workshop to stop the Machine Room Ghost
Gallery