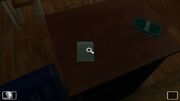 See also: A Note from the Class President

Also known as Cleaner's Memo (Hangul: 청소 주번의 쪽지 Literally: "A Note from Weekly duty of Cleaning") is a note in White Day: A Labyrinth Named School.
It details information about the location of the Chemical Solvent.
Location
It is found in the first area of the game, specifically Class 2-6, in Main Building 1 of Yeondu High School.
Transcript
Cleaner's Memo
Kim Byeong-tae!
The garden rake has been confiscated by Hak-ju, a student dean!
I can't rake the school grounds anymore because of you! What's worse, all the trees have died because you didn't water them last week! I'll make you regret your selfishness tomorrow!
If you've the spirit go to the safe in the P.E. storage room and take my rake back!
I overheard from the students that Hak-ju has a very bad memory, so he remembers the combination lock for the safe using the number of balls in each basket.
Further Note
In the Original, This note name is Cleaner's Memo ( 청소 주번의 쪽지 [ A Note from Weekly duty of Cleaning ] ) but in the Remake It's been renamed to A Note from the Class President ( 반장의 쪽지 ).
The hint of the Safe puzzle is written in this note.
Gallery