This article is about difficulty settings found in White Day: A Labyrinth Named School and it's Remake.
Original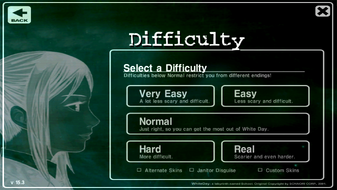 There are multiple game modes to choose from that change the difficulty of the game.
Remake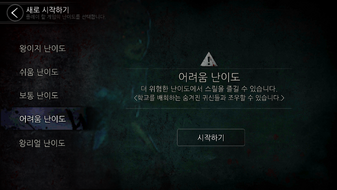 Very Easy [ Wang Easy ]

This is suitable for people who want enjoy the game without much difficulty.
You can run away from janitor more easily compared to the other difficulties.
Easy

Less thrills, but more easy to play.
You can receive phone messages as hints
Normal

A balanced difficulty.
You can solve a hidden puzzles and collect ghost stories.
Hard

You can enjoy the thrills of the game in a harder difficulty.
You can encounter the hidden ghosts in school
Hell [ Wang(King) Real ]

There are no saves, but a pen with 'the ability to retry when the game is over' is usable.
Improvement of Janitors AI compared to hard mode
Hidden items appeared
Janitors notification icons do not appear.
Beacons for Items do not appear
Collection Items for Special Costumes.
Notes
As the difficulty increases, the damage you receive increases, brightness decreases, ghosts and janitors become more intelligent, and the chance of heart rate increases.
In "Hard" and "Real" difficulties, you cannot save the Original game, as you cannot obtain the marker pens. In the remake you can save the game during any difficulty.
"Hard" and "Real" difficulties give the player a 2-hour time limit to complete the game. If the time limit runs out, the player loses. In the remake there is no time limit for the harder difficulties.
In "Very Easy" and "Easy" difficulties, you cannot obtain the Sanitary Gloves, since your heart rate will not increase.
In "Very Easy" and "Easy" difficulties, you can obtain hints by receiving SMS messages on your cell phone.
Originally only "Very Easy", "Easy" and "Normal" are available from the start. To unlock "Hard" and "Real" the player has to complete the game once/on "Normal". A patch enables all 5 difficulties to be available from the start.
Gallery