For the stories, see School Ghost Stories.
Ghost Collections (Hangul: 귀신 수집 ; RR: gwisin sujib) is a new feature in the Remake of White Day: A Labyrinth Named School.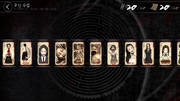 In this menu, players are able to see Ghost Collections of various Ghosts in the game. The collections show a card with the Ghost's concept art / picture along with its own Ghost Story, the documents that you collect through the game.
Getting these collections depends on certain circumstances and situations to encounter the ghosts and collect their documents that should be achieved in a playthrough of the game.
List of Collections
Edit

There about 20 Ghost Collections in the game.
---
---
Ad blocker interference detected!
Wikia is a free-to-use site that makes money from advertising. We have a modified experience for viewers using ad blockers

Wikia is not accessible if you've made further modifications. Remove the custom ad blocker rule(s) and the page will load as expected.