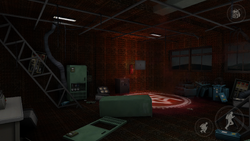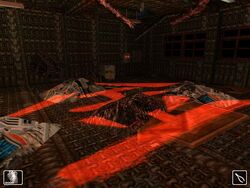 Machine Room Ghost, Known as Alarm ghost, Siren ghost, or Metal Amulet Boss.
Overview
Edit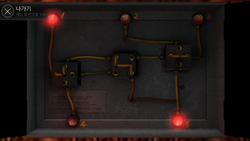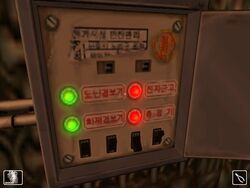 You have to turn off the alarms, then the safe will be opened. You can get the Home Economics Classroom Key and Metal amulet.
See also: Installation Engineer's Note

Seong-ah asks hee-min to bring the key to her.
You can't go to the Home Economics Classroom ( Seong-ah just take the key from Hee-min ).
box and doghole has been removed. You can just open the machine room door after solving the puzzle.
There is only fire alarm.
Futher Notes
Edit
Seong-ah was killed by the fire accident in the Home Economics Classroom, so she may have seizures caused by fire alarms.
In the Original, The method of the solving of Alarm puzzle is as follows.



To solve the puzzle, it is necessary to change the red color to green color. And like the picture above, the lamp is connected to the the switch at the bottom.
For example. If the first and second lamp is red color like a picture, then to operate the first and second switches.
But third lamp is different. For example. If the first and third lamp is red color, then to operate the first switch. In contrast, If the first lamp is red color but the second, third, forth lamp is green, then to operate the first switch.
( O=Green lamp, X=Red lamp )
First lamp / Second lamp
Third lamp / Forth lamp
Switch.
XX
XX
1,2,4
OX
XX
2,3,4
XO
XX
1,3,4
XX
XO
1,2,3
XX
OX
1,2,3,4
OO
XX
4
XO
XO
1
XX
OO
1,2
OX
OX
2,4
XO
OX
1,4
OX
XO
2
XO
OO
1,3
OX
OO
2,3
OO
OX
3,4
OO
XO
3
Ad blocker interference detected!
Wikia is a free-to-use site that makes money from advertising. We have a modified experience for viewers using ad blockers

Wikia is not accessible if you've made further modifications. Remove the custom ad blocker rule(s) and the page will load as expected.