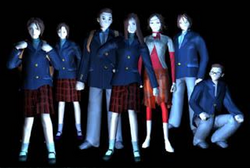 White Day: Ghost School (Hangul: 화이트데이:고스트스쿨 ; RR: hwaiteu dei : goseuteu seukul), is the first version of White Day, developed in 1998. Marked as a third person game but in blood festival it was changed and marked as first person. A teaser trailer video of this version was featured on the disc of "Steel Empire", Another game by Sonnori Co.
Not much is known about this version due to it being an early tech demo and a pitch idea for the final game, but according to magazines and video publications the overall plot, graphics and features were drastically different from the later versions and final product.
The general themes of this version were (According to NDC 2012): Murder/Crime, Black Magic, Exorcism, Survival Horror.
Plot
This plot section is a synopsis of the trailer.
The trailer opens up with a mysterious (female?) figure walking across a busy road (with cars passing by and beeping), and then jumps to a scene with a female student seen walking inside a school in the middle of the night[note 1] with a locket dropped beside her (showing a picture of herself and another girl, possibly her sister).[note 2]
and just as shes walking, something fast emrges, climbing the stair and reaching the girl, she is terrified and tries to defend herself from the incoming danger but the scene is cut and she is shown to have been mysteriously murdered
A brown haired boy enters the school during the night with a White Day gift/candy box in his hands and places it in one of the table's drawers but is interrupted. The scene cuts and shows other students in the school whom look scared, the brown haired boy talks to another boy who screams and runs away for some mysterious reason, A short short haired girl runs after him when she was initially sitting down and holding her legs, the boy later finds the same girl (presumably) hiding under a table.[note 3]
The scene cuts again and the sound of clock bells are heard; a mysterious man is shown standing with one feet on a pillar / iron rod of sorts (possibly levitating above the school) with various Christian cross symbols outlined in red appearing behind and around him (he is possibly an exorcist).[note 4]
The brown haired boy (possibly the protagonist) is seen again, hiding with a blonde/red headed girl who has her hair in a ponytail. A boy wearing glasses and the other boy are seen running away from a mysterious danger. Later on the protagonist (brown haired boy) witnesses one of the students being away dragged away on the floor[note 5], only to turn his back and face the ghost of the deceased girl (Who was killed in the beginning).[note 6]
Gallery
Further Notes
References