White Day Limited Edition Set (Remake) was released by ROI Games in the 26th of November, 2015.
And PC/ PS4 ver Limited edition set will be released in August 2017.

The price of the both Limited Edition are ₩ 88,000 (KRW).
The Mobile version edition sold only 1000 products.
2015 - Mobile Limited Edition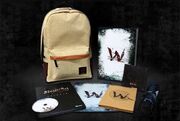 ₩ 88,000 (KRW).
The box set includes Variety goods.
Dust bag
Backpack ( Same design of the main character's backpack. )
Automatic Umbrella ( The umbrella which printed a Ghost. )
Artbook ( Hard cover )
A Notebook for summoning ghosts & Ball-point pen
(※Obviously, It doesn't actually work)
O.S.T. CD (Include 4 Tracks)
Clear Holder
Certificate about Best user
Download game coupons ( Only available in T-Store ver. )
Limited Edition Costumes ( Only available in T-Store ver. )
※ Because, Use the coupon of outside is not possible to download games.
( In Another market / itunes redeem code is released too little quantity )
2017 - PC / PS4 Limited Edition
₩ 88,000 (KRW).
The PC / PS4 Version Limited Edition will include:
Game Disk (The PC version is replaced by a Steam code)
Character Figures 'Yoo Ji-min' (75 X 68 X 185 mm)
O.S.T. CD (Include 14 Tracks)
Sonnori Card (Print serial number for each card)
DLC BlazBlue collaboration costumes (A total of 7 costumes)
DLC Fashion school uniform (A total of 4 costumes - for female characters)
PS4 ™ custom themes
※ The DLC 'BlazBlue collaboration' & 'Fashion school uniform' costumes can be sold for Non-limited edition purchaser later.
Further Notes
Due to a problem in China, a production site of the limited edition products, delivery was delayed than planned. The developer announced an apology and said it would give the compensation about a delayed release.
The additional item is the 'Portable Charger' (4000mAH) printed with the White Day logo.
Gallery