White Day Limited Edition Set (Remake) was released by ROI Games in the 26th of November, 2015.
The price of the Edition is ₩ 88,000 (KRW).
They sold only one thousand of them.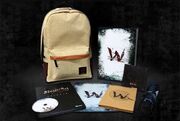 The box set includes Variety goods.
Dust bag
Backpack ( Same design of the main character's backpack. )
Automatic Umbrella ( The umbrella which printed a Ghost. )
Artbook ( Hard cover )
A Notebook for summoning ghosts & Ball-point pen
(※Obviously, It doesn't actually work)
Clear Holder
Certificate about Best user
Download game coupons ( Only available in T-Store ver. )
Limited Edition Costumes ( Only available in T-Store ver. )
※ Because, Use the coupon of outside is not possible to download games.
( In Another market / itunes redeem code is released too little quantity )
Ad blocker interference detected!
Wikia is a free-to-use site that makes money from advertising. We have a modified experience for viewers using ad blockers

Wikia is not accessible if you've made further modifications. Remove the custom ad blocker rule(s) and the page will load as expected.