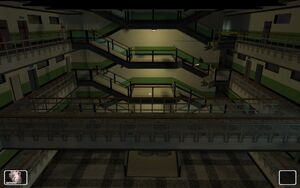 New Building is a building located in Yeondu High School and the main building of the school.
The New Building have a new facility, unlike the Main Building.
The New buildings can be divided into two part
( The Main Hall / Corridor part ).
The New Building has the 3rd grade classrooms and special classrooms.
The Main Building's ambience is narrow, old and dark but the New Building's ambience is spacious and bright than the main building.
The developer says, The New Building show the different fear ( like agoraphobia ) from the Main Building.
Floors
1st Floor
Corridor part
The Main Hall
2nd Floor
Corridor part
The Main Hall
The 3rd Grade Classrooms [ 3학년 교실 ] ( 3-1, 3-2, 3-3, 3-4, 3-5, 3-6 )
3rd Floor
Corridor part
The Main Hall
The 3rd Grade Classrooms [ 3학년 교실 ] ( 3-7, 3-8, 3-9, 3-10, 3-11, 3-12 )
Indoor bridge [실내 연결다리]
4th Floor
Corridor part
Rooftop ( Swimming Pool ) [ 옥상 ( 수영장 ) ] ( Remake.ver )
The Main Hall
Items
Gallery